Who said that adults can't have fun in the pool? Have fun, frolicking with these fantastic floats that will be sure to make your time in the water lots of fun. Check out our list of favorite floats for adults that might just bring out the kid in you.
1. Mmmm, Donut Pool Float ( $24.99)
Who knew there is a donut float? Ridiculously awesome; you can now float on your favorite donut as you have fun in the water.
2. Floating Waterproof Table Tennis ($79.99)
Who said table tennis has to be played in a frat house basement? Grab a friend and play it in the pool!
3.
Inflatable Beer Pong
($39.99)
Spice up your summer with a beer pool party. This floating Port O Pong is what you will need to have the ultimate pool party.
4. Aqua floating table ($80)
No more going back and forth to get you favorite drinks when all you want to do is chill with your buddies. No more interruptions, have your drinks right at your fingertips.
5. Gigantic water slides ($9,000)
This gigantic water slide will be fun for the entire family guaranteed. Have loads of fun aboard this 16' high slide. Create precious memories with the people you love the most.
6. Blue Lagoon Floating Island ($246)
Massive float! Perfect size for lounging 6-8 people. It's like a living room on water. Invite your friends, grab a few drinks and just relax. The float has a built in cooler, cup holder and wading pool. What more could you ask for?
7. Giant Pretzel Swim Fun Inflatable Floating Seat ($16.7)
This pretzel shaped float is ideal for adults and kids alike. It fits up to three persons easily. Use it for lounging with your friends on those lazy summer days.
8. Relaxation Station Water Lounge ($ 99.99)
A real hit! The relaxation station is made for just that-relaxation. It seats up to 4 adults comfortably with a mesh lounging area to rest your feet.Take it to the pool or on the lake and let the fun begin.
9. Cabana Islander ($275.66)
It is a multi-person raft that is perfectly designed to hold up to 6 people. Want to bring the kids along? Not a problem. The Cabana islander is durable and can can handle the frolicking.
10. Swimline 90645 Swimming Pool Inflatable Pizza Slice Rafts (Whole Pizza)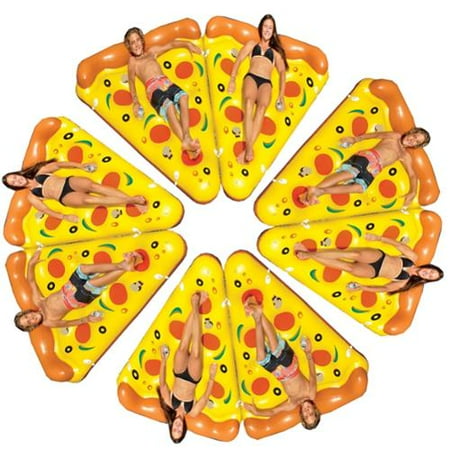 Pizza please! You're favorite comfort food is now a float. Have a slice or have it whole. This amazing float comes in eight "slices" so you and your friends can float in a group or individually. Be the ultimate pizza topping atop this fantastic float.