Having trouble deciding what to get for your cat loving friend? Well look no further we've done the hard work for you. Here is our list of cute and affordable gift ideas for cat lovers:
1. The cat sign ($18.99)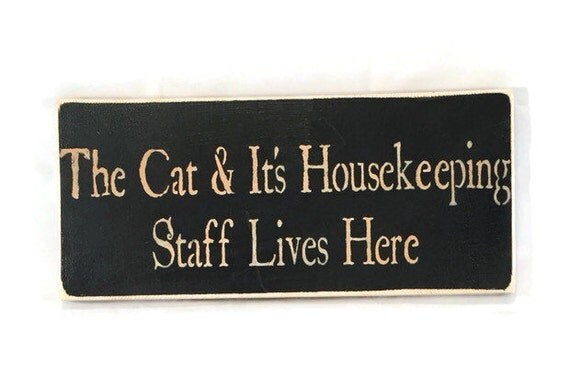 This hand-made sign with sanded and distressed edges will give your house the purrrfect look and feel. There is a saw tooth hanger at the back for easy hanging. It's affordable and comes sealed with a matte finish so durability is assured and you can enjoy this piece for years to come.
2. Cute black Octopussy t-shirt ($17)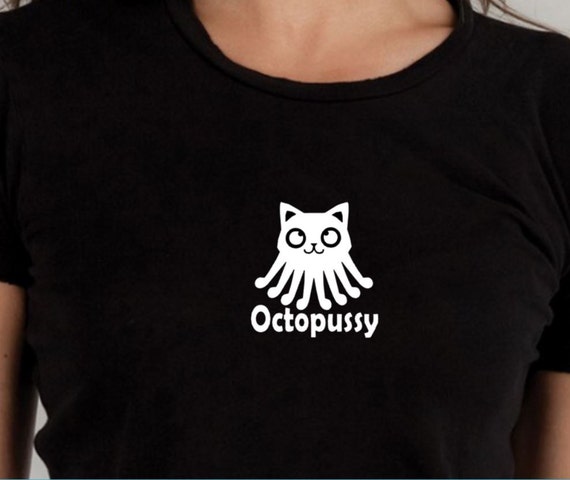 Who doesn't love a good 100% cotton t-shirt? The regular t- shirt is available for men and we have the 'missy fit' for the ladies. Be sure to use the sizing charts to get your perfect fit. If you really like this design you can get it on a coffee mug too.
3. Cat gloves ($13)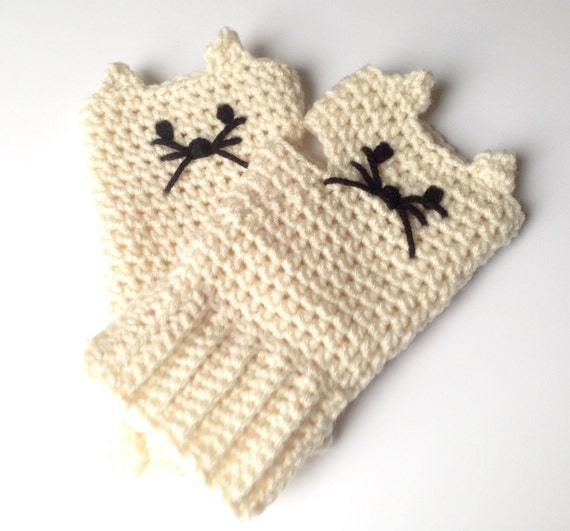 Get these comfortable, cozy crocheted gloves. They will be sure to keep your hands warm and cozy in the fall. The ribbed wrist warmer and hand sewn cat face makes it a must have accessory for those chilly days.You can get them in your favorite color and have a cat face sewn on in the color of your favorite furry friend. Grab a pair of the cat gloves for yourself or a friend. View our sizing chart to see the sizes available.
4. Minimalist Lovecats ring ($32)
The cat head makes it an amazing gift for cat lovers. This cat-inspired ring  made by the jewelers at the Catbird Brooklyn studio is oh so unique and stylish. Get yours today!
5. 
Cute cat ear pouch ($18)
A cute, meow bag made from high-quality PU material. Don't be fooled, this bag may look small on the outside, but there's plenty of room on the inside. It can even hold your kindle! The adorable cute ear design and the clip on closure makes this bag uniquely beautiful.
  6.  I Could Pee on This: And Other Poems by Cats ($8)
Looking for something great to read? Consider this tongue-in-cheek poetry collection by cats. Francesco Marculiano has put together beautiful cat poems where cats get to share their stories and triumphs (yes you read that right). There are tales of dead mice and pranks they play on humans. You're sure to have a good laugh reading this collection.
7. Rude Cat iPhone 6/iPhone 6 Plus Cover ($23)
Add a touch of personality to your phone with this phone case. The amazing cat and intricate floral designs can be enhanced with you choice of color- just grab a  pencil or a brush. It's a good after work past time. The cover has over 40 pages and 80 slides. Get yours for between  $21.90– $23.90
8.  Kikkerland Cat Butt Magnets, Set of 6 ($11)
For those of you with a quirky sense of humor, why not get 'cat butt' magnets! Put them on your fridge to hold your favorite photo or your grocery list reminder. It'll be sure to start some interesting conversations and get a good laugh from your guests. 
9. 
Cat-poly ($17)
Do you want some cat-related fun in your house? Who's up for a game of Cat-poly? Play this game with your family and friends. It is and ideal game for 2 to 6 players ages eight years and up. The back of every deed has fun facts you probably didn't know about cats with some cat-a-strophic twists and turns.
10. 
Morning Coffee Mug 300 ml ($11)
Coffee lovers, we have not forgotten you. Have your morning cup of coffee in one of these high quality ceramic cups. Guess what cat lovers? Your purchase gets you two cups-it's like have twin kittens in your house. The cat-ear-shaped mugs with cat face imprinted on the sides will be sure to put a smile on your face.